Switching out spaghetti for spaghetti squash is a great way to make a low-carb friendly dinner, but this winter gourd can do so much more. From pizza to burrito bowls, check out our ten favorite ways to eat spaghetti squash for dinner. 
This mild-flavored, naturally stringy squash is the perfect pasta substitute. It can go from Pad Thai to marinara without skipping a beat. But, it's just as fantastic as the base to a casserole or salad. 
As fall settles in, we're bound to see more and more of this pale yellow gourd in stores. So, it seems appropriate to pay homage to the variety of recipes spaghetti squash works well in. We've chosen our top ten ways to eat spaghetti squash for dinner, and we're betting you'll want to try them all. 
Meatless Meals
Nutrient-dense and fiber-rich spaghetti squash makes for a perfect main course, sans meat. Sure, you could just throw a jar of marinara over the roasted squash and call it a night, but we think you'll like these more creative options. 
Spaghetti Squash Cacio-e-Pepe: Is spaghetti squash still healthy when loaded with tons of butter and cheese? We'll let you be the judge of that. We can all agree it's delicious, though.
Get the Recipe: Bon Appetit
Cheesy Spaghetti Squash Casserole: A perfect vegetarian use for spaghetti squash, this dish is reminiscent of lasagna. Packed with creamy ricotta cheese, mushrooms, and spinach, it's hearty enough to be a meal on its own. 
Get the Recipe: Peas and Crayons
Spaghetti Squash Bowl with Waffled Tofu: We had to include this one because, well, waffled tofu!  Not only does this dish come out looking like all kinds of fun, but it's also incredibly healthy, protein-rich, and a good choice if you're meal-prepping. Grab your waffle iron, pick up a squash, and make these bowls in advance for a week of healthy dinners. 
Get the Recipe: Spa Bettie
Ginger and Miso Spaghetti Squash: For an Asian flare, try this vegan take on ginger and miso noodles. This comforting dish requires fewer than ten ingredients and takes only about 40 minutes. You can find the white miso for this recipe at health food stores and Asian markets. 
Get the Recipe: The Organic Dietician
Seafood and Chicken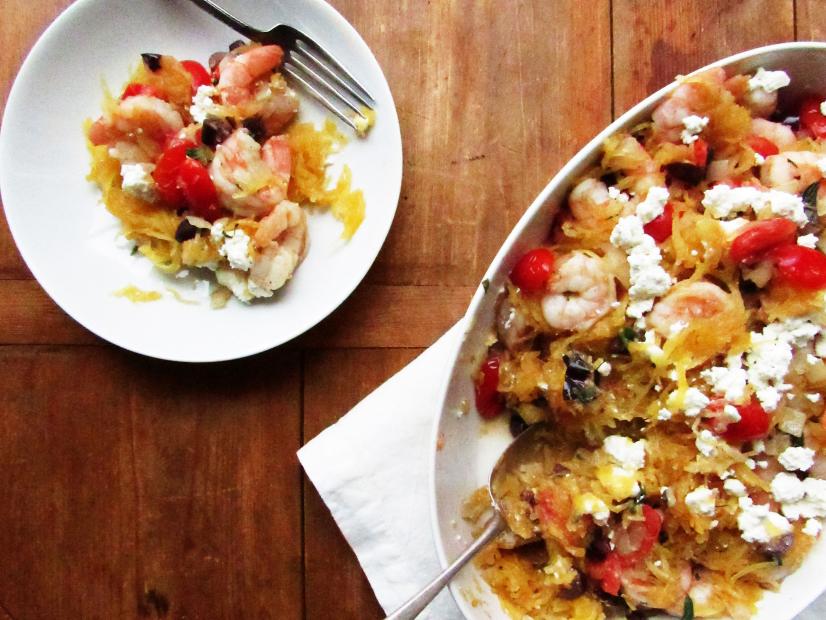 Lean proteins like chicken and fish are already considered healthy. Pair them with spaghetti squash as these recipes do, and you have a complete meal you never have to feel bad about. 
Greek Style Spaghetti Squash with Shrimp: We love this recipe's mix of briny olives, salty feta cheese, and rich roasted tomatoes. We also love that this dish is as good at room temperature as it is hot out of the oven. And you know what that means: leftovers for lunch.
Get the Recipe: Food Network
Roasted Salmon with Spaghetti Squash Salad: Noodle salads are great, but a spaghetti squash salad is way healthier. This one hits all the feel-good, eat-right beats you're looking for with minimal effort. Don't skimp on the mint garnish; it's one of the best parts!  
Get the Recipe: Food & Wine
Spaghetti Squash Chicken Parmesan: Real chicken parmesan is a definite splurge when it comes to your health. This recipe, though, will fill all your cheesy Italian cravings without the carb coma. 
Get the Recipe: Damn Delicious
Beef and Pork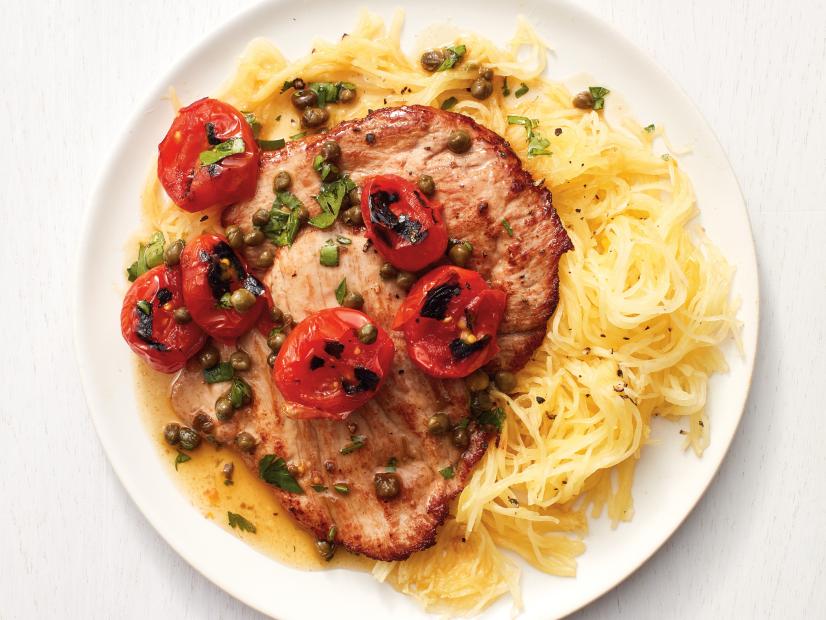 Beef and pork add real flavor to low-carb dinners. Pairing them with spaghetti squash is no exception. We think you'll love these guilt-free, rich, and carnivorous meals.
Pork Scallopini with Spaghetti Squash: This dish results in such elegance that we'd feel comfortable serving it at a dinner party. Although, if you're trying to impress your friends, we suggest you don't tell them about the microwave shortcut this recipe provides.
Get the Recipe: Food Network
Meat Lover's Spaghetti Squash Casserole: Yep, this one's referencing a meat lover's pizza and for good reason. It's got all the pizza flavor without the carbs, and a casserole like this is bound to reheat well. You can make this one on Sunday and eat it all week long! 
Get the Recipe: Project Meal Plan
Spaghetti Squash Burrito Bowl: You don't even need a plate for this dish. Just stuff your squash halves with meat, beans, cheese, and veggies for a low-carb and fiber-filled take on the burrito bowl. 
Get the Recipe: Delish
Whether it's stepping in for pizza, pasta, or burritos, this golden gourd is a true all-star. Its mild flavor lends perfectly to a variety of dishes, and its pasta-mimicking qualities make it the perfect low-carb starchy substitute. With these ten easy recipes to get you started, there's no reason not to enjoy spaghetti squash for dinner.