Thanksgiving comes with its kitchen challenges, like too few burners on the stove or not enough room in the oven. However, a simple sous vide machine can fix all that. From turkey breast to mashed potatoes, this trendy kitchen tool is your ultimate holiday helper, and we have the recipes to prove it.
If you're not familiar with sous vide machines, they essentially use heated, circulating water to cook your food. The method allows you to cook at a lower temperature than you otherwise could, and the process is very hands-off. You just dump everything into a bag and let it go.
It's so magical that you can cook your turkey breast and your mashed potatoes in the same pot at the same time! And that leaves your oven free for other, more important things. You know, like pie!
Sous Vide Turkey, Three Ways
The sous vide is magical, but it's not that big. So, you won't be able to cook an entire turkey in your machine. However, you can—and we argue you should—cook a turkey breast in the sous vide. The breast tends to dry out in the oven, and it fits easily into this moisture-saving, countertop appliance.
Assuming you still want to serve dark meat, cook the turkey legs and thighs in the oven. Or, roast a small turkey, think ten pounds or so, in the oven, and use the sous vide turkey breast as supplemental meat. Either way, you no longer need that twenty-pound bird you originally planned.
Sous Vide Turkey with Crispy Skin: The only downside to using the sous vide machine with your turkey is the lack of browning. It's impossible to get any sort of crisp or golden brown skin when you're cooking in circulating water. This recipe works around that by crisping the skin in the oven separately.
Get the Recipe: Serious Eats
Sous Vide Turkey Roulade: If it's just not Thanksgiving without a "stuffed" bird, try a roulade. This one's filled with a dreamy lemon-garlic and herb mixture. To crisp it up at the end, you could use your broiler. Or, you could be a bit indulgent and follow the recipe's instructions for deep-frying.
Get the Recipe: The Flavor Bender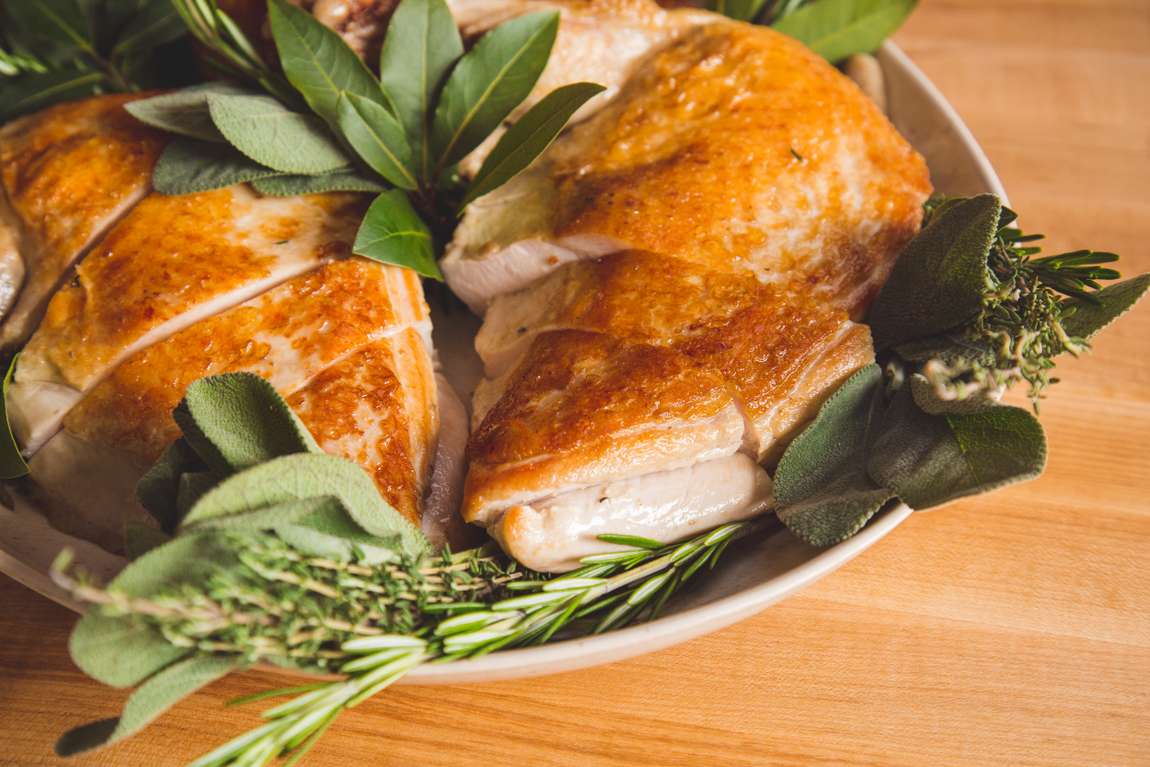 The Twice-Seared Method: Some chefs naysay the sous vide because you lose the initial sear. Searing meat first and then cooking it is common practice with slow cookers, Dutch ovens, and pressure cookers because it helps create a richer flavor. To overcome this potential sous vide downfall, this recipe shows how to sear the meat twice: once before you add it to the sous vide bag for flavor, and again at the end to add that crispiness.
Get the Recipe: Chef Steps
Sous Vide Stuffings and Starchy Sides
Sous vide machines are awesome because everything cooks in its own bag. This means that while your turkey breast is circulating, so are your side dishes. Stuffings and pasta dishes both can be made in the sous vide machine, saving you a stove burner and some precious oven space.
Corn Bread Dressing: You might want to brown the onions before you add them to your sous vide bag, but otherwise, this recipe is dressing gold. Not only does it mean one less dish in the oven, but the fat-infused cornbread crumbles are sure to delight even the staunchest of stuffing critics.
Get the Recipe: Skillet LifeHacker
Risotto with Kale Pesto: Usually, risotto on Thanksgiving isn't an option. Risotto is known for being demanding, as it requires the cook to stand over the stove, gently stirring in more liquid every few minutes. And that renders it impossible to make on a holiday. But in a sous vide machine, no babysitting is necessary. Plus, we love the pop of bright green this dish will bring to your holiday table.
Get the Recipe: Williams-Sonoma
Sous Vide Potato and Vegetable Sides
You might not be able to make a full-fledged green-bean casserole in a sous vide machine, but a few vegetable dishes do work well in it. And, if you like extra-flavorful potatoes, the sous vide machine should lead to total satisfaction.
Green Beans Almandine: If you're looking for a new way to serve green beans, this is a great choice! Green beans Almandine, or green beans with toasted almonds, is a classic dish. And, with the sous vide, it comes together with next to no effort.
Get the Recipe: The Black Peppercorn
Mashed Potatoes: Here, the potatoes cook in creamy butter and milk rather than water. So they're brimming with flavor! But, you might want to use a piece of cheesecloth to contain the rosemary sprigs. Otherwise, they tend to break apart, and no one likes pulling little twigs out of their potatoes!
Get the Recipe: Anova Culinary
This magical holiday helper has certainly earned its reputation. No other tool in your kitchen can cook multiple dishes in one pot. And no other kitchen tool provides such a forgiving environment to do so. The sous vide machine doesn't just save you space in your oven or on your stove-top, it makes cooking a festive feast downright easy. From turkey to mashed potatoes, if you want to simplify your holiday cooking, you'll want to use a sous vide machine.